Pieter Andries Kruger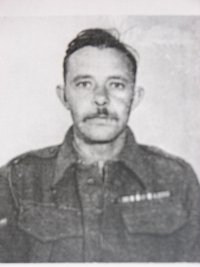 My Father
Pieter Andries Kruger
ID number 180423 5004 00 3
AA Gunner UDF, P6025
POW 1941 to 1945
I am trying to trace down my father's whereabouts during WW2. We used to have discussions around the war as I am very interested in the history of the war. He used to tell me that he was a pilot and flew in Egypt and Italy. Unfortunately he passed away in 1990 but his memory always lived on in me.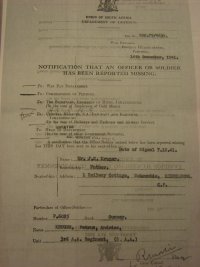 Family History
Father
JC Kruger, 1 Railway Cottage, Schoombie (Passed away around 26/11/1942) (Middelburg?)
Mother
Johanna Kruger
Sister
WJ Kruger, 46 Gloucester Ave, Dalview, Brakpan. (became next of kin 26/11/1942)
Wife
EJ Kruger, T41 Sheareea Ave, Robben Island
Regt No
P6025
Mustering
Gunner AA Brigade
Home address after war
C/O C.A.T.C Robben Island
At Joining
19 yrs 11 mths at 28/03/1938
Trade
Cabinet maker / Knynsa
Education
Std VI
Previous service
S.S.B (48699) 01/11/1937 to 25/03/1938
Features
Height - 5ft 5in. Eyes - Green-brown. Hair - Light brown. 1 scar left thigh.
Notification - Missing
File no WRC.79/4630 14 December 1941 date of signal 07/12/1941. unit 3rd A.A. Regiment S.A.A.
Prison camps
Italy, Camp 52 Chiavari
Germany, Stalag VII A Moosburg:
Arbeitskommando no. 8006 Unterföhring - Medical Orderly released Medical Hospital, Munich, Germany
Till recently I was convinced he was a pilot although some stories he told me did not really make sense. He told me that he was downed over the Mediterranean Sea and was only rescued some days later. This was his excuse why he had a hate for swimming in the sea. He also used to be very much to himself, alone with not many friends. Towards the end of last year I tried to trace down his war record. To my amazement I had to find out that he was actually a gunner for the 1st Anti Aircraft Brigade South Africa. This I must add, I was not ashamed at the stories he told, I was more proud of him. To be a POW for 4 years and come back takes some doing and is proof of a man with character.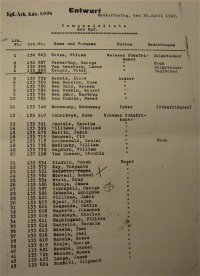 According to his record he started off in the service in 1938 as a gunner for the South African Artillery. He was posted to the 1st Artillery Battery in June 1938. In April 1940 he was posted to 2nd Artillery Battery. In June 1940 he disembarked in Mombasa. In December 1940 he was posted to 1st Anti Aircraft Brigade SAF MFF UDF. In April 1941 he embarked at Mombasa for Port Said on the ship "Niew Zeeland" where he arrived May 1941. From here I do not have much only that he was captured on the 23 November 1941 with the battle of Sidi Rezegh. Where and how he was captured is what really interests me. He was sent to Italy, could he have been on one of the ships that were torpedoed by the British? That will fit into the sea experience he had. There is mention of two camps in his record Camp 66 and Camp 52. He was also wounded in Italy while being a POW. What happened? From Italy he went to Germany. It is suspect he was in Stalag VII A but I do not have confirmation of that. What I do have is a company list from an Unterföhring work kommando listing where his name appears as a medic. I can not get confirmation as to where the POW was sent to work.
After his release in 1945 he was involved in an incident where he had to shoot a fellow South African in self defense. There were witnesses to the incident and I could not get much from his service records.
I am including some of the documentation that I have received so far. If there is anybody that can recall or have any information about my father they can contact me on e-mail
Source:
E-mail by Peter Kruger, South Africa, to Moosburg Online, July 2007