A.L. (Bud) Lindsey
---
Part I
Part II
Part III
Part IV
Part V
Part VI
Part VII
Part VIII
Part IX
Part X
The men from Dachau
---
Source:
A. L. (Bud) Lindsey: A Soda Jerk Goes to War, Stanton 2001, p. 124-189
Reproduction kindly permitted
A Soda Jerk Goes to War
By A.L. (Bud) Lindsey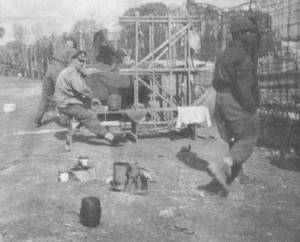 April 29, 1945. An unidentified American Air Force officer utilizes one of the small handcrafted stoves at Stalag VII A in Germany at Moosburg, near Munich. The camp was liberated about noon on that Sunday morning. These small stoves were fabricated by one or more of the prisoners of war out of cans received in the Red Cross parcels and sold to other POWs for cigarettes, the camp's currency. They consisted of a fire box connected to a blower which could be turned by hand producing high heat with only a minimum of fuel: pieces of cardboard, wood or coal. One of the stoves can bee seen in the foreground. (Photo courtesy of Dick Cade)
Click for larger image
There were a few who were skillful with their hands and had somehow obtained some tools to fashion the cans into small stoves which had a blower to force air into the fire box, not unlike a blacksmith's forge. These small stoves were available from the stove entrepreneurs for cigarettes. Late on a still evening you could see the entire parade ground in the middle of the camp spotted with POWs kneeling, turning the blower wheel on the little stoves, heating up something to eat.
One day while we were working in Munich a young boy of about 10 years of age rode by our group of ten POWs and stopped. His English was passable and, with the permission of the two German guards, visited with us at length. He identified himself as Ludwig Herman B. Reischboeck. We introduced ourselves, Albert Delano, Rudolph Shafer and myself. We conversed at length and gave the young man our home addresses in the States and showed him pictures of our families. The young boy offered to see if he could find toothbrushes for us and we agreed to give him cigarettes for the same. Unfortunately the guards moved us to go back to Moosburg or to an air raid shelter, a common daily occurrence, before the young lad returned, so we spent the duration of our confinement having to brush our teeth with water and our fingers.
It was not uncommon to spend a portion of each day we were in Munich in an air raid shelter. The American Air Force would bomb the railroads and other targets in or near Munich almost daily. When the alarm was sounded, the guards would herd the POWs into the nearest air raid shelter where we waited, with the civilians, for the all clear to sound.
At another time, while working in Munich, a young girl walked by our group. This resulted in all of us, including the two guards, watching her approach and her departure. As she walked past our group one of the POWs remarked, in English, something to the effect that he would like to know her better - nothing vulgar or out of taste luckily as she turned and came back engaging us in conversation in perfect English.
Source: